Alumni Profile
Ammon Olson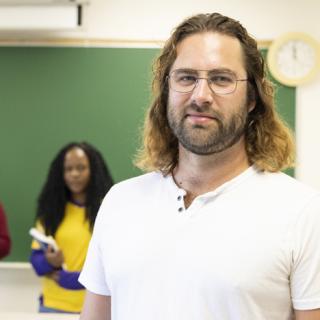 After spending several years working in addictions treatment, I have gained an appreciation and excitement for the field of human and social services. I have a personal love for the core message of the Alcoholics Anonymous program, that everyone has universal faults and that we need safe spaces to share those faults. Consequently, I would love to be involved in the production of knowledge for addictions and other behavioral problems post-graduation.
I chose to enter the Burman University Behavioral Science (BHSC) program with the intent to progress to a Master of Social Work because it would give me the credentials to choose my field in the human and social services with flexibility. The Burman BHSC program is a multidisciplinary program that incorporates sociology, psychology, cultural anthropology, and ethics among other diverse courses, thus helping students in this program to be grounded in diverse skills that are needed in the human/social services.
This program structure will, therefore, enable me to work in diverse human and social services positions while pursuing my passion of contributing to the literature on addictions and other behavioral problems. I can also choose to pursue further education through a variety of graduate school programs with a focus on human services.
So far, my experience in the Behavioral Science program has been positive and low-stress, with a focus on learning relevant material, making me feel confident that I will know proper terminology and be aware of current issues and practices in human and social services when I enter the workforce and/or graduate school. The faculty have fostered a welcoming environment that feels focused on developing working knowledge needed for my future. Overall, I am looking forward to a very rewarding experience in Burman and particularly in the BHSC program.
Ammon Olson, BHSC Student