Swimming Lessons
 Swim For Life Swimming Lessons
Please notice that the Red Cross swimming lessons transitioned to the Lifesaving Society Swim for Life program. Please visit the Lifesaving Society for SWIMMER FAQ'S here
Whether you're a parent wishing to enroll your child in swimming lessons, a teen who is interested in becoming a water safety instructor, or an adult looking to improve your swimming skills, Swim for Life has a program for you!
Swim for Life swimmers progress through the lower levels based on participation and age. Preschoolers aged three to five move through the upper levels based on a skills evaluation.
Lifesaving Society Swim for Life uses continuous evaluation for swimmers to progress through the levels.
*Times and prices along with the schedule are subject to change.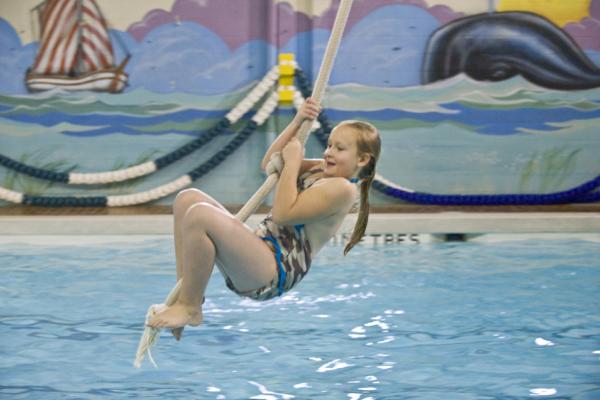 | | | | |
| --- | --- | --- | --- |
| SCHEDULE |   |   |   |
| Monday lessons |  Jan 22 - Mar 18 (no class Feb 19) | Mons |   |
| Tues & Thurs | Session 1 |  Jan 23- Feb 15 | Tues & Thurs |   |
| Tues & Thurs | Session 2 |  Feb 27 - Mar 21 | Tues & Thurs | Fee |
| 40 min |  Preschool 1 &2 | 4:00-4:40 pm | $45.00 |
| 40 min |  Preschool 3&4 | 4:45-5:25 pm | $45.00 |
| 40 min |  Preschool 5  | 5:30-6:10 pm | $45.00 |
| 40 min |  Swimmer 1  | 4:00-4:40 pm | $45.00 |
| 40 min |  Swimmer 2  | 4:45-5:25 pm | $45.00 |
| 40 min |  Swimmer 3  | 5:30-6:10 pm | $45.00 |
| 45 min |  Swimmer 4 &5  | 4:50-5:35 pm | $50.00 |
| 45 min |  Swimmer 6  | 4:00-4:45 pm | $50.00 |
| 1 hr |  Rookie Patrol | 5:40-6:40 pm | $60.00 |
---
---
---
Swim For Life Consent Form
PAYMENT
---
| | |
| --- | --- |
| Registration | Register by submitting an online form or by phone: Mon-Thu 8:30 am - 3:15 pm & Fri 8:30 am-12:00 pm. Payment must accompany registration.  |
| Refund Policy | Refunds are generally not available except in extenuating circumstances. A ten-dollar ($10.00) administration fee will be charged on all refunds. Registrations must be canceled by a learner at least 5 days before a class; after that no refund. If a course is canceled due to insufficient enrolment, a full refund will be given. We reserve the right to change or cancel any program as needed. Phone: 403-782-2822 or email at olgasadovoy@burmanu.ca. |
---